About Famed Hall Bathroom Remodeling of Canton
We believe bathrooms should be like havens. Hence often, all it takes to create your little sanctuary is a bit of remodeling and improvement. Remodeling a bathroom is exciting, fun, and an experience everyone should enjoy. However, with so many different kinds of tiles, styles, wall covers, cabinets, furnishings, etc., you may need help finding quality materials and the right contractors. That's where we come in with a team of skilled contractors, workmen, and quality suppliers in our network. Our dedicated team liaises with suppliers to help you find the best quality materials and provide customized solutions to your bathroom remodeling requirements.
Our partners provide a comprehensive range of services under one roof. Call us today to get in touch with our bathroom contractors and get quotes and details about the project's scope.
Update Your Canton Bathroom with Our Remodeling Experts
New Shower and Bathtub Installations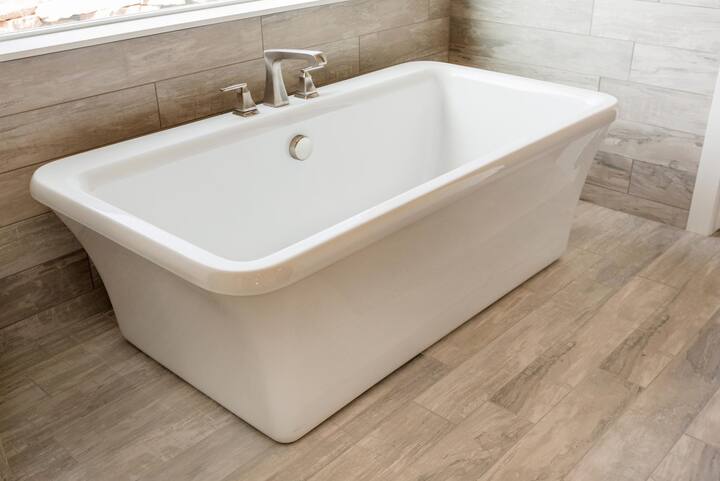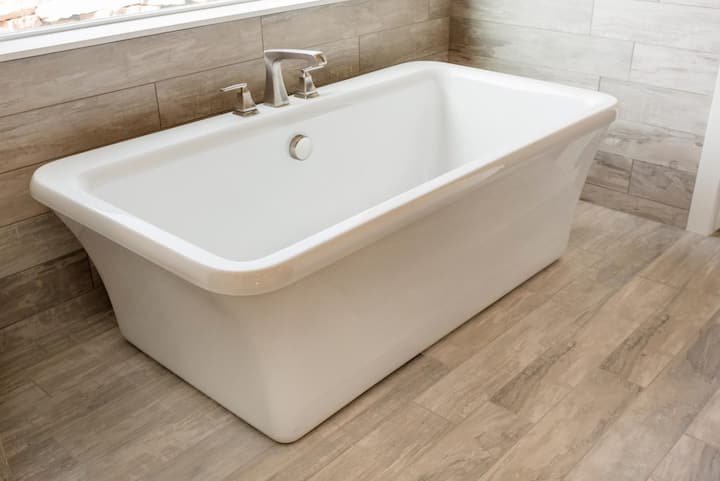 The bathroom is one place in the home that needs the most repairs and fixes, besides the kitchen. The bathroom is constantly exposed to water, which leads to leakages, damage, wear and tear, and needs a touch of renovation every few years. We match you with experienced bathroom remodeling contractors who provide extensive repair and remodeling services from floors to the ceilings of the bathrooms.
Our network of bathroom remodeling contractors visit the homes, identify the areas of damage and the sources, and devise customized solutions for all clients. Hence your bathroom gets a new look with all damages repaired.
Our partners also restore the functioning of the faucets, lighting, fixtures, tubs, and other bathroom facilities. They exclusively work with each client to devise optimal solutions to fix your bathrooms in the shortest time and within budget.
Shower and Bathtubs
Complete Bathroom Remodels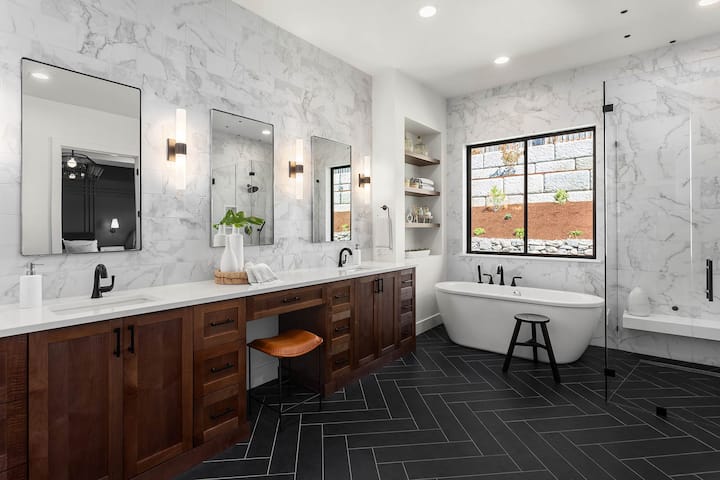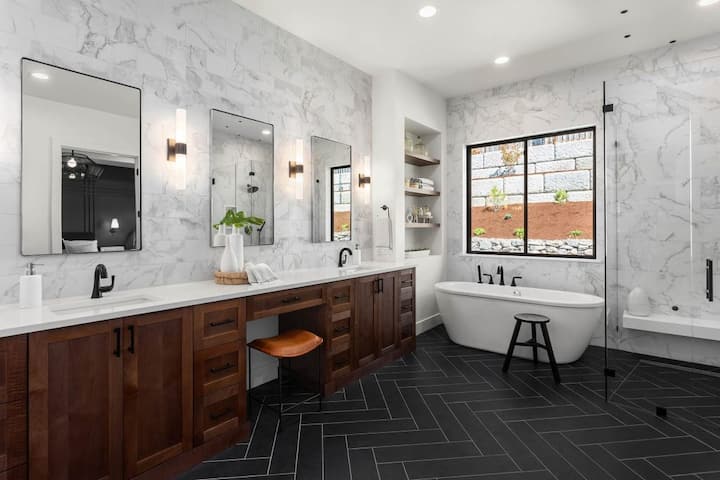 Mold, mildew, leaky pipes, and cracks in the walls or floorings can mar the look of any room. Since the bathrooms set a precedent for the condition of the entire home, any such issue can put off a sales deed in no time. Hence you need consistent checks and maintenance to ensure all the facilities in the bathroom remain functional.
We match you with local bathroom remodeling contractors who provide extensive repair and maintenance services for home bathrooms all over the city. Our team conducts drywall repair, tiling, vanity remodeling, fan repairs, etc. They also offer quotes and different plans devised to meet the needs of our versatile clientele. Call us today to learn more about bathroom remodeling services.
Bathroom Remodels
General Bathroom Facts and Info
Over time bathrooms can face considerable damage. For example, leaks, structural damage, mold, or mildew may require repairs, caulking, or grout.
If your bathroom needs a makeover, we match you with professional bathroom remodeling contractors who provide a range of services for repairing leaks and giving your bathroom a completely fresh look.
They also provide services for repairing the shower, faucets, light fixtures, vanity, cabinets, fans, counters, and tiling the floors and walls. Our partners deliver quality work within the allocated time frame and with guaranteed satisfaction.
Here's an overview of what our network of bathroom remodeling contractors offer:
Leakages: Leaky faucets, toilets, and tubs can become a nuisance if not handled in time. Hence our partners provide maintenance services for minor and major leaks. In addition, our partners visit the premises, identify the source, causes, and extent of leaks, and provide ultimate solutions.
Bathroom Fan Repair: Bathroom fans and exhausts help clear out the moist air that is the leading cause of mold and mildew. Our partners inspect the conditions of the fan and install new ones in place. They also check the vents for mold and replace the tubing if required.
Tiles Installation: Tiles on the floor and walls may get chipped or broken over time. Our network can make your bathroom good as new again. Our partners provide tile installations, repairs, and upgrades of the tile types.
Our partners have all the options for tiling, like stone tiles, porcelain, ceramic, glass, etc.
Drywall Repairs: If there's leakage inside the walls or moisture stays in, it can damage the wallboards.
Light Fixtures: Lighting conditions can make many differences to your home and bathroom.
Shower Head and Door: If you need a new shower door or the old one fixed, our team offers extensive options for the types, sizes, brands, and styles of doors, shower knobs, heads, and other toilet accessories.
Caulking: Caulking enables water to get in behind the tiles, inside the walls, the floor, and the wood. As the water gets in, it damages the wood, wallboard, and insides. Usually, caulking occurs near the tub affecting the look of the bathroom and the whole house.
Mirror Installation: Remodeling can only be completed with a new vanity look. Hence the need for a mirror and counter space.