Our Beautiful Canton Bathroom Remodeling Services
A few things here and there can make or break your bathroom. First, bathroom remodels for one can either go right and leave you with a beautiful, aesthetic clean and inviting bathroom or end up as a complete disaster.
The key to avoiding such disasters is planning. Right from the beginning, you must plan everything carefully and thoughtfully. Experienced professionals consider a few parameters to set the standard right from the beginning.
They consider the size, space, type of remodeling, and costs to suggest the right model for your home.  However, when hiring professionals to remodel your bathroom, ensure they are licensed and experienced.
They will be more aware of everything that can go wrong. Plus, the more experienced the contractors, the more easily they can dig out the exact cause of the leaks and other damages, so your newly remodeled bathroom lasts longer.
These people also know all the permits required for construction, plumbing, and electrical fittings.
Hence things go smoothly without stress or delays. Contact us today for all your bathroom refurbishing needs.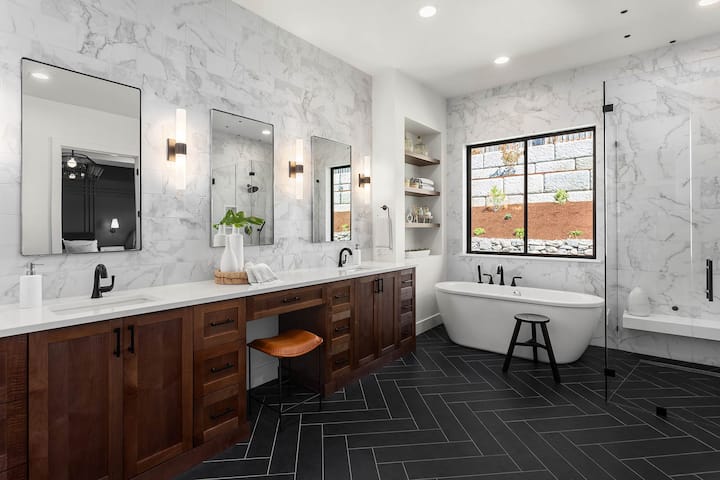 Get in Touch With Us
We're excited to hear from you about your bathroom remodeling needs. No bathroom remodel in Canton is too big or too small for our experienced team!
Bathroom Remodeling Vs. Renovation
When we discuss working on the bathroom, we often use the words remodeling and renovation. However, most people use the terms synonymously and refer to either for the same purpose.
However, there's a significant difference between the two. Knowing about it is important for hiring the right contractors for the job.
Hence here are a few major differences between the two.
Bathroom Renovation
Renovation means making something new after destruction. So it's a renewal process.
Hence for the bathrooms, that translate to installing bathtubs, showers, sinks, tiles, vanity, mirror, toilet, flooring, etc. Gutting the whole structure, too, comes under the act of renovation.
A complete renovation is easier as you start afresh from scratch. It also allows you to add features like more lighting, vents, electrical outlets or switches, etc.
Bathroom Remodel
Remodeling means reconstruction. It's like a makeover. Hence in a bathroom, it means replacing the fixtures, changing the design, and adding more features like a steam room, sauna, more windows and shower door, tub, etc.
The objective for most remodeling projects is to widen the space or expansion.
Hence the layout is changed.
Bathroom Tile Work
Bathroom tiles are exposed to water and hence more likely to deteriorate over time. However, since these tiles are exposed to water daily, better quality tiles will last longer and give you less trouble.
There are four types of tiles usually installed in bathrooms in different areas. These include:
Bathroom Flooring
Shower
Backsplash
Walls
Our partners use different materials, colors, shapes, and patterns for these tiles to add to the bathroom's aesthetics.
Ceramic tiles are highly preferred and come with several benefits for the bathroom.
These are:
Safe
Low maintenance
They are available in several designs and colors
Water-resistant
Cost-effective
Anti-slip
Mold and bacteria resistant
Versatile to allow walk-in showers and other accessories to your bathroom.
Porcelain tiles, too, are high quality and best for use in bathrooms. These are very versatile and tough. They can deal with tough conditions and last longer.
The only downside is they are more expensive than the other options.
More options for tiling include:
Quarry tiles
Terra Cotta tiles
Toilet Installation
Toilet installation can be tricky. If you try to do it yourself or hire inexperienced people, you could end up with a half-finished job, a fortune down the drain (quite literally), and a complete plumbing disaster.
So first, you need to know when to opt for the replacement. Here are some key factors that'll indicate that the current toilet needs a replacement:
Energy Policy Act states that all toilets installed after 1994 should flush 1.6 gallons of water and not more. Hence, your toilet must adhere to the act.
Your toilet needs a replacement at least after 25 years.
Water puddles near the base indicate a cracked tank; hence needs an inspection and replacement.
Leaks, constantly running toilets, frequent clogs, etc., all indicate the need for quick toilet replacement and installation.
Therefore, if you face any of the above situations, you need to contact the toilet installation team for help. Here's how a typical toilet installation works:
The contractors' prep the floor and soil pipe
They install soil pipe and the closet flange
Next, they solder the stop valve
They install the wax ring, the bowl, the tank, the sink assembly, and the supply line.
Finally, the seat assembly is put in place.
Making a Bathroom Accessible for Disabled
People with special requirements or mobility issues need access to the bathroom too. Hence, our partners can install several accessories or facilities to make the bathroom more accessible for everyone.
Roll-In Showers: Using tubs is challenging for those people with mobility issues. Hence roll-in showers are convenient and allow complete access. If you have anyone in a wheelchair, ensure that the shower space is large enough for the wheelchair to reel in. You can also install a built-in chair or seat under the shower.
Accessible Bath Tub: Accessible bathtubs are safe with tall walls and auto-filling and drainage options. Hence going in and coming out is easier and safer.
Hardware Support: You can install many hardware handles and grips for support in the bathroom. These little installations require minimal renovation and make the place more accessible. These include grab bars, motion sensor sink handles, removable shower heads, etc.
Bathroom Remodeling Ideas
Bathroom renovation is expensive. However, when you are spending the greens, it's wise to make that an investment that pays off in the long run. A report shows you can make up 58.9% of the bathroom remodeling cost when selling your residence.
Outdated, troublesome bathrooms only bring down a good deal and attract very low offers.
Hence whenever you consider remodeling the place, think of timeless designs. Like nickel, tones are neutral and highly popular colors for bathroom interiors.
Here are a few remodeling ideas for you:
Choose real stone tiles, as these are low-cost and add a dramatic, glamorous touch to your bathroom.
If you are low on budget, replacing the vanity, knobs, and drawer will significantly change your bathroom's outlook.
If looking at small bathroom remodeling, simply refresh the paint. Choose a bold color, and you will feel the room looks fresh, inviting, and upgraded in no time or cost!
If needed, upgrade the tiles. You may have to up your budget, but it will give a refreshed look to the whole bathroom.
Add a wet room. It may be expensive, but it makes the place look elegant, spacey, and top-notch.
Consider the installation of bathtubs and showers for a complete master bathroom remodel.
Bathroom Remodeling
Bathroom remodeling can be done within budget. First, however, it is important to make a checklist. Then, find the key problem areas and work with quality contractors who understand the job.
They can devise inexpensive bathroom remodeling ideas that can help give your bathroom a complete makeover.
There are several options and bathroom remodels ideas you can try to give your old, dated bathroom a new look. We have looked at bathtub installation, toilet installation, and bathroom renovation to give your place the upgrade it needs.